Help Light the Way Home
By Inviting Thistle Farms Products Into Your Store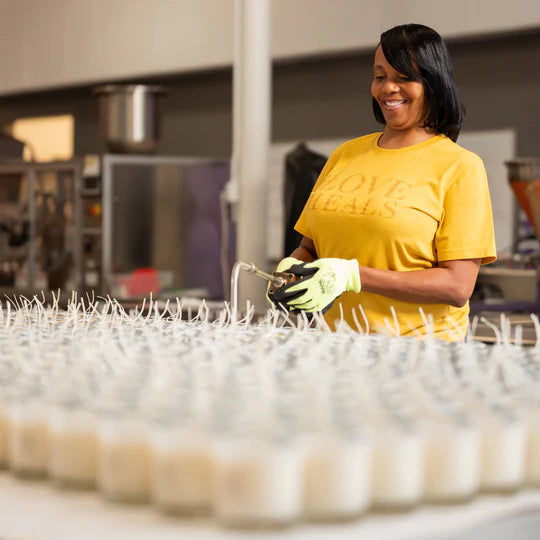 Naturally Handcrafted With Love
Everything we produce is hand-poured in small batches by women survivors who are paid a living wage, provided a strong benefits package, and a healthy work environment. 
Our products are thoughtfully sourced and natural. We start with pure essential oils to promote wellness and healing and never use synthetic fragrances, parabens, or petroleum-based ingredients.
Interested in Becoming a Wholesale Partner?
We're grateful you're interested in joining the family. Our products are available at wholesale pricing to qualifying retail buyers. If you are interested in carrying our products, please complete the application form and a sales representative will get back to you as soon as possible.
Please note, this process can take 2-3 weeks.
DIRECTOR OF SALES
Meet Katrina
2006 Thistle Farms Graduate
I spend my days talking to longtime retailers and those who are new to our justice enterprise. Seeing the joy that supporting survivors brings them fuels my work and my healing.
Our retailers throughout the country work so hard to tell the story of how love heals. I'm thankful for each of them.
OUR PROMISE TO YOU
• Beautiful, handmade, and meaningful products to delight your customers.
• Due to natural ingredients, products are guaranteed for one year from the date it was shipped.
• Timely shipping, within 2-7 business days. Shipping is calculated based on shipment weight and delivery address.
YOUR PROMISE TO US
• Products are to be sold for retail purposes, and cannot be redistributed at wholesale.
• Products will not be sold below our minimum MSRP.
• Online retailing must be pre-approved by Thistle Farms. Third-Party Websites such as Ebay and Amazon are expressly prohibited.